It is one of the most sought-after prizes in the movie world; not the celebrated Cannes Palme d'Or for best film, awarded on Saturday night to French entry Titane, but its animal alternative, the Palm Dog.
This year's coveted leather collar award conferred for the best canine performance on screen was given to Tilda Swinton's three springer spaniels as the prize celebrated its 20th anniversary – its 103rd in dog years.
Snowbear, Dora and Rosy starred with Swinton and her daughter Honor Swinton Byrne in The Souvenir Part II.
"I have to tell you honestly, this is the prize to get," Swinton said as she collected the award. "We've been eyeing it for years."
"I tried to get the dogs here but they're busy," said Swinton. "I hear they're on the beach in the Highlands of Scotland."
The film's director, Joanna Hogg, made a guest appearance via Swinton's iPhone at the champagne reception. She said she would be happy to work with the three canine stars again. "I think they'll be in great demand now," said Hogg, whose film was awarded five stars by the Guardian critic Peter Bradshaw.
This year, the runner-up jury-prize, awarded by film critics, was shared by Sophie, a Los Angeles pit bull in Sean Baker's Red Rocket, and Panda, the sheepdog in Valdimar Jóhannsson's Lamb. Both directors were on hand to collect the prizes.
Baker brought along his own dog, Bunsen, to pick up the award. "This is the big prize, and what a surreal whirlwind of an experience! Bunsen comes everywhere with me. He is my emotional support dog," he said.
Palm Dog is the fun creation of the British journalist Toby Rose, inspired by his own French fox terrier, Muttley, who died in 2007. Since it was first awarded in 2001 it has become a witty antidote to the self-regarding formality of the main show across the road.
In 2019, Quentin Tarantino picked up the Palm Dog for the bowser Brandy, who played alongside his on-screen owner Brad Pitt in Once Upon a Time in Hollywood. Last year's Cannes film festival was cancelled due to Covid.
"I have to say I am so honoured to have this," Tarantino said, accepting the 2019 collar. "I've told everybody, I have no idea if we're going to win the Palme d'Or. I feel no entitlement. But I did feel that I was in good standing to win the Palm Dog. So I want to dedicate this to my wonderful actress Brandy. She has brought the Palm Dog home to America."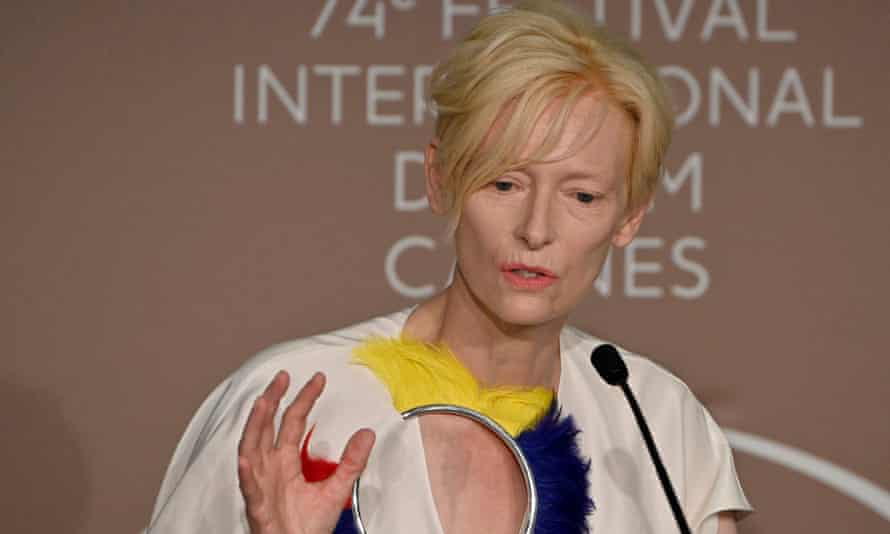 Rose has written a book, Unleashed giving an annual history of the award, with a foreword by British actor and French resident Charlotte Rampling.
"Palm Dog is celebrating its 20th anniversary year and to award Tilda the 2021 prize in person … was a breathtaking Riviera way of marking the occasion. Add to that the fact that the winners were Tilda's very own springer spaniels – Dora, Rosy and Snowbear – and I feel the moment perfectly captured the spirit of the award, which I say sits on the cuddly cutting edge," Rose told the Guardian.
"The Palm Dog team and jury were over the moon and Tilda looked pretty pleased too."
… as you're joining us from India, we have a small favour to ask. Tens of millions have placed their trust in the Guardian's high-impact journalism since we started publishing 200 years ago, turning to us in moments of crisis, uncertainty, solidarity and hope. More than 1.5 million readers, from 180 countries, have recently taken the step to support us financially – keeping us open to all, and fiercely independent.
With no shareholders or billionaire owner, we can set our own agenda and provide trustworthy journalism that's free from commercial and political influence, offering a counterweight to the spread of misinformation. When it's never mattered more, we can investigate and challenge without fear or favour.
Unlike many others, Guardian journalism is available for everyone to read, regardless of what they can afford to pay. We do this because we believe in information equality. Greater numbers of people can keep track of global events, understand their impact on people and communities, and become inspired to take meaningful action.
We aim to offer readers a comprehensive, international perspective on critical events shaping our world – from the Black Lives Matter movement, to the new American administration, Brexit, and the world's slow emergence from a global pandemic. We are committed to upholding our reputation for urgent, powerful reporting on the climate emergency, and made the decision to reject advertising from fossil fuel companies, divest from the oil and gas industries, and set a course to achieve net zero emissions by 2030.
Source: The Guardian