In the film Prem Tame, I had played a character called Raaji, who was a free-spirited soul. She was strong, independent, always searching for that 'perfect love'… and yet she was kind of commitment phobic. In this movie the only meaningful relationship she had was with Khogen (her pet). She was compassionate towards causes, always fought for the right things in life and she just followed her heart all the time.
No, I don't have a pet at home but I have strays living in my courtyard. So, yes, I am a dog lover and I live with them.
Fond memories
Firstly I am missing Raaji's better half Khogen a lot. The days spent with him were one of my most memorable days. I can never forget how he used to react to each and every expression of mine, how he ate from my hand, how he stayed awake whole night for the shoot, how he gave his best. These things hit me hard now and I keep on looking at his pictures and obviously the film.
Something really funny happened during the shoot. Managing a big dog like Khogen in front of the camera is tough since his weight is more than mine, so every time I would try to guide him, he would pull me back in the opposite direction. If I were going one step forward, he would take me two steps back. Everyone would laugh and we would start all over again.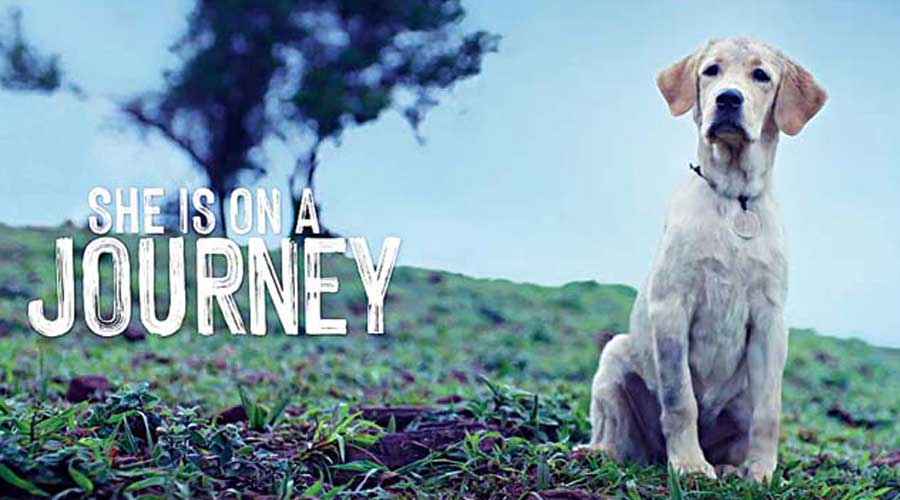 Khogen is such a wonderful dog. Very energetic, obedient, co-operative. I am in love with him. The best part is he loves me too. He used to eat with me every day during the shoot. I got emotionally attached as I love dogs. The last day of shoot was very painful, I knew I won't see him the next day. But I am happy that I got to spend a few beautiful days with him.
Charlie is here
Today all these things came up when I saw this wonderful teaser of a film called 777 Charlie. I couldn't stop my tears. It's about a dog who is on a journey to find someone. The teaser begins with Charlie breaking off a glass window and running to some unknown destination. She runs through highways, bridges, railway tracks and faces difficulties to figure out things. She also gets not-so-positive vibes from some people, at times she doesn't get food… someone in fact throws water at her. She gets inside trucks, sometimes sitting under it… how cutely she runs harder, picking fish from the market and flying out of a van like Superman.
Her journey continues, and she soldiers on, moving through the garbage areas… she gets chased by other dogs. She looks the sweetest when she comes out of the dustbin… awwwww… those eyes, I can't stop looking at them. Coming to the end of it, we see Charlie helplessly getting wet in the rain… and seeing her in that condition we cannot stop ourselves from crying. It gave me goosebumps and I just felt like running to her and hugging her. Then suddenly we see a young man who has picked up Charlie. He has put a shawl around her. As he is secretly taking her home, a cute little girl spots Charlie's wagging tail and figures out what is there inside the shawl. A broad smile spreads across her face. That's where we see the lines, Charlie meets Dharma, appear.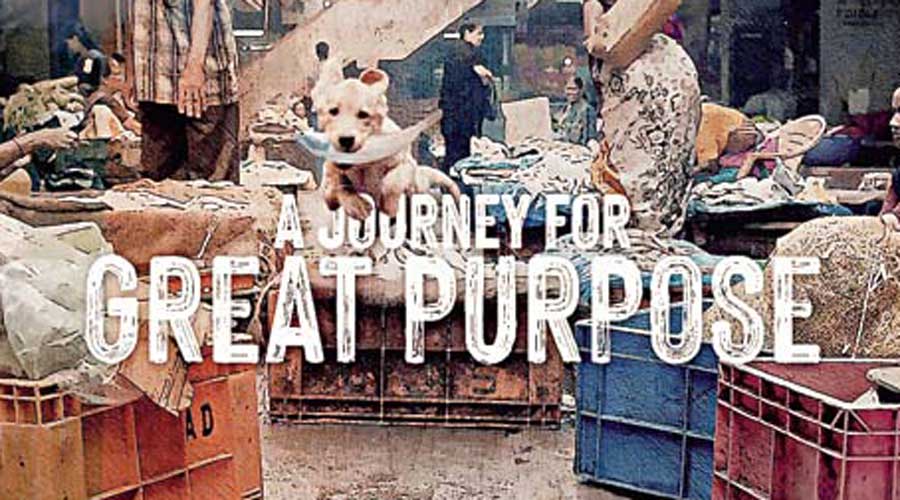 Moment from 777 Charlie
The Telegraph
I am super excited to watch this film, I think this whole journey of the ups and downs of Charlie is just the introduction and a lot more is yet to happen after she meets Dharma. It is an amazingly heart-touching teaser, which is going to make people happy and sad at the same time.
A Cinematic Turn
Also, this took me back to the time when I saw this movie called A Dog's Way Home. The story of Bella (the dog) and Lucus (the owner) is based on a novel and shows a beautiful journey of a dog to find his owner and get united again. Bella faced a lot of difficulties but finally taught us, "There are some bonds no distance can break". The love and affection Bella has cannot be compared. It's one of my most favourite movies and I could relate to this when I shot with Khogen because he was also somewhat somewhere searching for his home and finally when he met his owner, it was a blast of emotions. People like me definitely could relate to the end.
I would say that my life has always been like this and staying with them gives me happiness. I would request everyone to shelter, feed, love stray animals. We humans are fortunate that we can express our feelings but dogs cannot do so, though they feel similar pain. So please love them and they will definitely give you joy without any conditions, let's make the world happy and build more connections.
Looking back
So I step out every day twice to feed my children. I have a few, around six-seven in my para. Whatever I eat, they eat the same. They know their lunch and dinner time very well. They come running after me and their eyes speak so much. They love me, they stay, they play, they give me peace. The days I'm out for shoots, I make sure they get their food on time.
This reminds me of a funny memory from my childhood days. My family always feeds and gives shelter to stray animals and I give them names like Splash, Puchkunu, Moly, Poly etc. One day I felt that they should get to see themselves in the mirror. So I  picked them up one by one and brought them close to the big mirror in my room so that they could also see themselves like we do. Then one day my mom saw this and started laughing.
There are also painful memories — I have lost few puppies in accidents and have seen the pain of the mamma doggie… she used to sit the whole night beside the accident spot and I could feel the tears. I have seen my dad giving medicines and taking care of them. I think I have been a pet parent since my childhood days. And then there was MiG. I had a German Shepherd at my cousin's place, we called him MiG. He was of my age and we grew up together, he was my best friend. I used to fight, play and eat with him. MiG took a part of me with him but he will stay with me forever. Yeah, my life has dogs more than humans.
I have made a small space in my garden with shades, so that they can take shelter during rains.
Source: Telegraph India, Not edited by DogExpress staff